Pixatel, Micromax, & USAID Partnership Delivers Positive Results for Rural Students
Pixatel's tablet-based Adaptive Learning Platform bolsters educational outcomes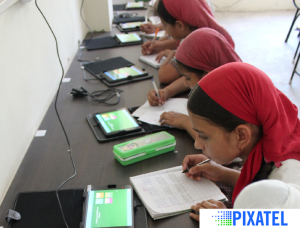 Amritsar, India,  February 09, 2015 – Pixatel Systems, the leader in 
Citizen Empowerment Solutions (CES)
, announced that its 
Math Whiz
solution enabled hundreds of rural students to master CBSE math curriculum content. Math Whiz, funded by USAID Development Innovation Ventures, runs on Pixatel's tablet-based 
cloud learning platform
. It provides children with dynamically tailored adaptive content suitable to their individual learning level, using daily practice and testing to master each topic before advancing to the next one. Auto-generated metrics provide visibility to teachers, administrators, and parents. The platform runs on affordable tablets, and does not require constant electricity or Internet or computer literacy among teachers."Given environments where not very many children do homework, this approach drastically boosts the amount of practice students get in solving math problems," said Parshottam Singh, Chairman of the National Public School. "Students are motivated and interested to learn mathematics, teachers are using class time more efficiently and we'd welcome the availability of content for other subject areas using a similar adaptive framework."
"We are excited to provide the tablets for this novel data-driven project to improve educational attainment for rural students," said Pravin Subba, Vice President of Human Resources & Administration at Micromax. "Too many students graduate primary school without learning basic skills and it sets them back for life. This approach ensures students learn at their own pace and teachers get notified of the weak areas for each child. Micromax believes technology can deliver quality education to marginalized communities and we are happy to do our part."
The feedback from students, teachers, and administrators has been very favorable and allowed Pixatel to further improve the learning platform. Pixatel plans to add more schools to its Pilot in the 2015 school year and offer adaptive learning content for grades 1 to 5. Math Whiz is integrated with the Central Board of Secondary Education (CBSE) and Punjab School Board, but it also can support any other curriculum standard.
"It's wonderful to see positive learning outcomes for students and it's even more fulfilling to see our tablet based software helping students overcome math-phobia," said Jasjit Singh, Senior Vice President at Pixatel. "The results to date would not have been possible without the support of our partners Micromax, USAID, the Jameel Poverty Action Lab (JPAL) at MIT, and faculty at Columbia University and University of Pennsylvania. Feedback from teachers and students has enabled us to improve the platform significantly, so we expect even better outcomes in the future."
About Pixatel
Pixatel is the leading provider of Citizen Empowerment Solutions, a set of services focused on solving critical development challenges. Pixatel imagines a world where everyone has access to literacy and utilizes e-Learning systems that enable universal access to knowledge, develop responsible citizenship, and foster a lifelong love for learning. Pixatel works with governments, enterprises, and content publishers around the world to develop and launch innovative services to address key strategic challenges.
About Micromax
Micromax Informatics Limited is one of the leading consumer electronics companies in India and the 10th largest mobile phone player in the world. Over the past decade, Micromax has pioneered the democratization of technology in India by offering affordable innovations through their product offerings and removing barriers for large scale adoption of advanced technologies. Micromax is currently the 2nd largest smartphone company in India. Micromax is a brand which is close to the heart of the youth and celebrates the vibrancies of life and empowerment
About Development Innovation Ventures
USAID's Development Innovation Ventures (DIV) is an investment platform that finds, tests, and scales new solutions to development challenges around the world. Through a year-round open competition, DIV seeks ideas that demonstrate cost-effectiveness relative to traditional approaches, that gather rigorous evidence of their intervention's impacts, and that have the potential to scale through the public or private sector without long-term DIV support.